You know there is something special about a film if it won 7 awards out of 7 nominations. La La Land is a big winner at the 74th Golden Globe Awards and made a history for winning the most number of major awards including Best Picture, Best Actor (Ryan Gosling), and Best Actress (Emma Stone). Much have already been said about the film but the rain of acclaims is far from over. Critics and movie buffs alike continuously place their bet on La La Land, with a high level of confidence, for the coveted Academy Awards this year.
La La Land is not one of those films that you will consider great by simply joining the chorus of praise around you without actually seeing it. If movie watching in cinema is an investment, consider La La Land as a perfect example. You get to be transported to the old school art of film making with techniques that are almost forgotten in this age of time. The award-winning direction of Damien Chazelle made use of traditional CinemaScope technology that was used in most musical films back in the 50's and 60's. Even the graphics present vintage taste to provide that nostalgic experience no one would refuse to have.
And just when you thought that the music and aesthetics of the film are the reasons behind its groundbreaking success, wait until you delve into the story.
La La Land is an informal term which refers to the bright lifestyle of Los Angeles and Hollywood, and the glamorous promises of a 'dream world'.  At the beginning of the story, audience meet Mia (Emma Stone), an aspiring theater and film actress who works as a barista during the day, and Sebastian (Ryan Gosling), an idealistic pianist who is one of the few remaining people who still believe and practice the dying art of Jazz music. Both of them are struggling to navigate their way towards their dreams.
Also part of the phenomenal cast is John Legend, a real life singer/songwriter, who plays the role of Keith. Contrary to the conservative taste of Sebastian, Keith thinks that the only way to bring the culture of Jazz music to the new generation of listeners is through modification.
In the end, Mia achieved the celebrity lifestyle she had always fantasize about and Sebastian got to play his Jazz music in his own club. Whatever happened in between before they earned their success is a story full of failed auditions, spilled coffee, life lessons, and romantic tap dance numbers.
La La Land features songs which tell larger than life stories straight from the creative minds of composer Justin Hurwitz, who also worked with Chazelle for the equally award-winning film Whiplash; and from lyricists duo Benj Pasek and Justin Paul. Pasek and Paul are celebrated names in Broadway for their musical Dear Evan Hansen.
DARE TO DREAM
I saw the movie in one of the climactic nights of my life as a young professional: the night before my job interview. And honestly, I can't tell right away if I was encouraged by the film after watching it considering that there are more than enough rejection scenes in it. In La La Land, you will see a lady barista fail in most of her acting auditions and an underrated pianist lose his job during Christmas season. None of these scenarios would motivate anyone to take that single shot at his dream. And yet I consider the film as an educational material to prepare me for what is really ahead and teach me how to manage my ambitions to avoid heartbreaks.
(I saw the movie with my friend and fellow movie buff, Arvy! We took a photo with Emma and Ryan and went completely nerdy)
The movie is brave enough to show the rather sad part of human dream. It shows the unnoticed reality that the act of dreaming is actually the best part of the journey, better than the dream itself. As a proof, Mia and Sebastian found each other in the wretched stage of dreaming the dream. And this is a major morale of the story: that somehow, the satisfaction lies not in achieving our highest ideals but in the actions taken to get there.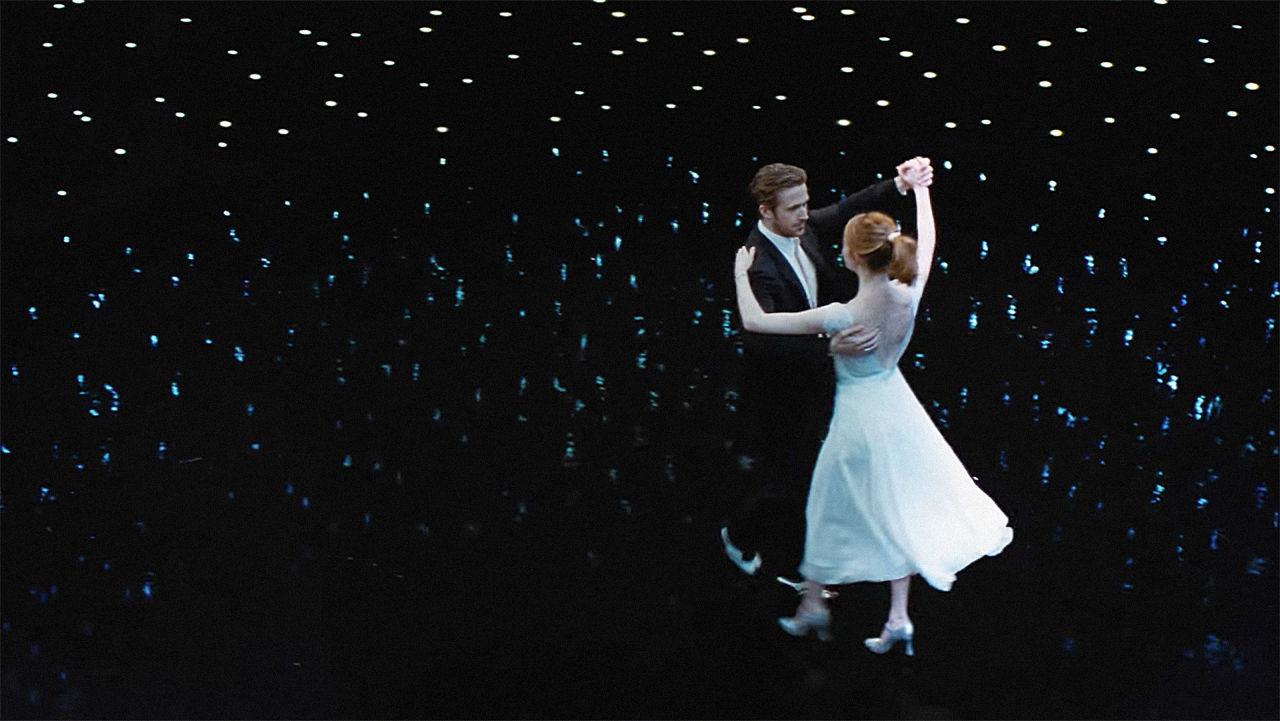 Mia and Sebastian also represent the two different paths leading to success. When Mia decided to pursue her independent one-woman act show, despite all the obvious constraints confronting her, she served as an example of an idealistic dreamer who is willing to challenge the flow of the world and make her own current. On the other hand, Sebastian is like that one friend we have who compromised with the dictated trend of the society for the promise of an easier road. Sebastian at the beginning is as idealist as anyone could be. In fact, he is way more idealistic than Mia. But they both transformed each other in a way that made them braver to pursue their goals, except that they have to drift apart in the process.
DARE TO LOVE
La La Land speaks about dreams as much as it does about love. Anyone who has a beating and loving heart will find himself romanticized after watching the film. There is so much magic in it that triggers the playfulness inside every person and allow people to imagine a fairytale-like scene with their significant half. There are also a lot of tricks found in the movie that can be used for 'hitting on that girl next to your table'. Either bring her in an old-school cinema house or illegally enter an observatory museum after hours.
There are also tear-jerking and heartbreaking moments. I am particularly drawn to that scene when Mia ended her debut performance as an indie theater actress and she found right before her a barely occupied theater. What made it even more heartbreaking was when she saw the 'reserved seat' meant for Sebastian empty.
At the backstage, Mia heard whispers of insults and she had to bear it all by herself.  One enduring truth about life that we can get out from this scene is that dreaming is supposed to be a shared experience. Failing becomes lighter if we carry it with someone instead of dealing with it alone. And so I cannot blame Mia if after that experience she was so broken, losing all her motivation to continue the fight.
Mia's character has a universal appeal because we are all like her who needs affirmation especially from people who greatly matter to us. We all need a person who will remind us of our gift when the interest of the entire world seems to focus only on our weaknesses. And Sebastian was the only person who could have said something good about Mia's performance that night, but he missed the show because he was busy pursuing his own dreams. Sad, yes, but that's the price he had to pay.
DARE TO BE
I think the reason why La La Land is an instant hit is its unique take on the realistic qualities of human ambition. It is reminiscent of Gatsby's American dream where everything that sparkles does not necessarily equate to happiness. The prime issue on the very surface of the film is whether love is more important than professional career, or vice versa. But looking deeper at the complex fabric of the story, it throws us the question of how prepared are we in becoming the person we dream to become. Success is not a rare thing actually. Every person, depending on his standard of success, can call himself successful at some point of his life. But the challenging part is accepting the rough side of triumph. And since dreams are mere visions unless we take steps towards it, we are completely clueless on how it is going to be like until we get there. This is the risk: the reason why dreamers need to be daring and foolish.
La La Land is one great piece of an art because it encourages us to take the risk even if it seems that the 'entire city of stars shines just for us'; even if things are nothing more than corrupted illusions of fame and applause. And when at the middle of the race we find ourselves drenched in failures, no other human experience can be more fulfilling than trying once more.
"Here's to the ones who dream; Foolish as they may seem; Here's to the hearts that ache; Here's to the mess we make"